In just a few years, political commentator Tucker Carlson has risen to become one of Fox News' biggest and most popular hosts.
Millions of Americans follow his popular show and Tucker has amassed some 3.7 million followers on Twitter.
In fact, many of his biggest fans have suggested that Tucker should run for president in 2024, though so far the popular TV anchor hasn't said anything that indicates he would be interested in doing so.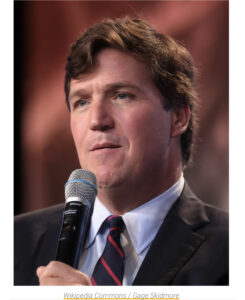 Over the course of his professional life, Tucker has worked as a journalist, author, political commentator and columnist – but what is the true story behind his conservative political views and how did he manage to create the most-watched cable news show in the United States?
Does he have a family or children? Who is Tucker Carlson married to?
Let's find out …
Abandonment issues
Tucker Carlson was born in California in 1969. He grew up with his father and his younger brother, Buckley. You could say that Tucker was born straight into journalism, as his father, Dick Carlson, was a famous journalist and the director of Voice of America during the last years of the Cold War.
Tucker's biological mother, Lisa McNear Lombardi, worked as an artist, but left the family when Tucker was only 6 years old, after divorcing his father. According to reports, Lisa wanted a more "bohemian lifestyle". Dick Carlson got custody of Tucker and his younger brother.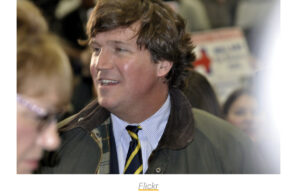 Tucker Carlson, who has Swiss ancestry on his maternal side, actually went to boarding school in Switzerland and attended the elite college at Lac Leman. After a short time at the college, he was unceremoniously "kicked out". Tucker has never explained exactly why.
Instead, he ended up at the prestigious boarding school St. George's School, in Middletown, Road Island, where things went a whole lot smoother.
Tucker later graduated from Trinity College of Connecticut in 1991, with a BA in History. He dreamed of working for the CIA, but his application was rejected – so journalism became the way forward, something fervently encouraged by his father, Dick.
Tucker Carlson bow ties
"You should consider journalism," his father told him, according to Columbia Journalism Review. "They'll take anybody."
Tucker's journalistic career began as a fact-reviewer at the conservative journal Policy Review.
"Tucker was an enterprising, hard-working shoe-leather reporter," his former colleague, Adam Myerson, has explained.
After Policy Review, his career continued upwards and, in the late 1990s, Tucker Carlson became an increasingly well-known conservative voice. Many loved his quick and often full-blooded remarks.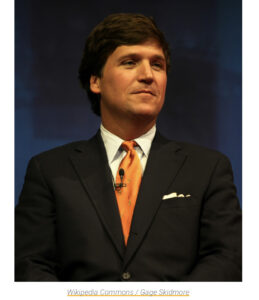 Many also noted the bright colors of the bow ties he wore – a habit from boarding school that he carried with him on-air up until 2006.
"If you wear a bow tie, it's like [wearing] a middle finger around your neck; you're just inviting scorn and ridicule… the number of people screaming the F-word at me… it wore me down after a while so I gave in and became conventional," Tucker said.
In 2016, he started hosting Tucker Carlson Tonight on Fox News and the rest is history.
Is Tucker Carlson married?
It's clear that his years and time at St. George's School, the boarding school in Middletown, made a huge impression on Tucker. And not just with regards to his colorful bow ties…
St. George's School was the place where he would meet the love of his life, Susan Anderson. The couple first laid eyes on each other during the first week of 10th grade, as 15-year-old teenagers.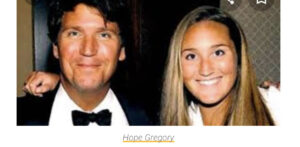 "She was the cutest 10th grader in America," Tucker told People in 2000.
"There was a bounce in his walk. He was in his khaki pants and ribbon belt and I thought, even then, he seemed so optimistic and positive," said Susan.
In 1991, they tied the knot in the high-school chapel. But before that, Tucker had asked Susan's father for permission to marry her.
"All very 19th Century, but a good thing to do," Tucker explained.
It was a nervous moment for the young Tucker – Susan's father was a respected man and the headmaster of St. George's School from 1984 to 1988.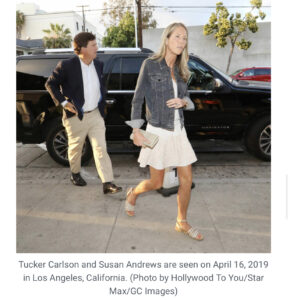 But Tucker summoned the courage and handled the patriarchal pressure. Today, the Carlsons have been happily married for many years.
"We've been together 30 years, so it's a little hard to imagine what it's not like to be [together]," Tucker said in 2014.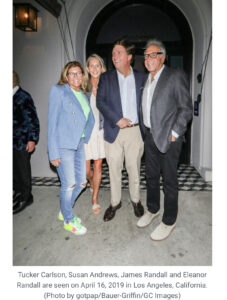 Tucker Carlson's kids
Together, the pair have raised four children: Lillie, Hopie, Dorothy and a son named Buckley.
The children live a fairly anonymous life, outside the spotlight. But Tucker has sometimes mentioned them and referred to his kids as his "little angels". On television, Tucker may have a tough style and persona, but he seems to love his children very much.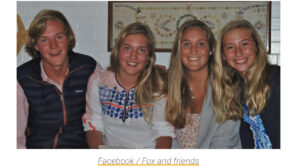 In a text published in the New York Times in 2005, Tucker wrote about his son Buckley and how they went on a fishing trip. His eldest daughter, Lillie, also appeared in the text – she played with an alligator before the guide had enough and told her to stop.
A few years ago, Tucker said he refused to let his son watch Oprah Winfrey because she was "anti-male."
"When I had a son, I stopped watching Oprah because it was just too anti-male, and I felt like I did not want to bring him up in a home where Oprah was constantly attacking men," Carlson said.
"And remember, keep your boys away from Oprah or it will make them feel bad about being male. It's absolutely true. Keep your girls away from rap, keep your boys away from Oprah. And everybody will be fine. "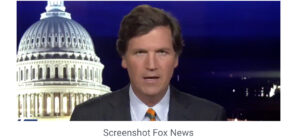 Tucker's children have attended fine schools and grown up in a safe environment, but Tucker also knows that not all kids are that lucky – he seems to have a soft spot for children born without privileges.
Maybe that's why he's supporting the charity Horton's Kids, an organization that supports and empower at-risk youngsters from Washington.