A mom delivered her baby early so her husband could hold him one last time, after he was given just days left to live.
Haley Parke was pregnant with her and husband John Brinton (JB) Parke's second child as he battled cancer after being diagnosed in January 2021. The couple had only been married 3 years and had a young son.
The couple was aware that JB only had months left to live and had talked about Haley being induced so that her husband could meet their son.
On November 28 the family were dealt another devastating blow when JB was admitted to hospital and learned that he had just days left to live.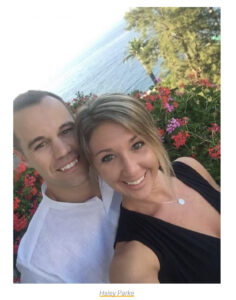 "With our second son's due date 3 weeks away, my husband and I knew asking for an induction was the right thing to do. Without hesitation, the team of ICU doctors communicated with the head of high risk labor and delivery doctors. They offered me an induction as soon as I was ready," Haley said.
Haley was induced but when that didn't bring the birth on fast enough she was offered an emergency C-section.
"I kissed my sweet husband goodbye and told him to be strong and hold on for me and the baby – he said he would. We began the induction process Wednesday night with hopes of a quick labor and a vaginal birth.
"Those plans changed in an instant when a team of ICU doctors entered my room Thursday morning at 8am with the news that Jb was declining fast and had a matter of a few hours. It was either a c-section right at that moment, or Jb would not have the opportunity to meet our son."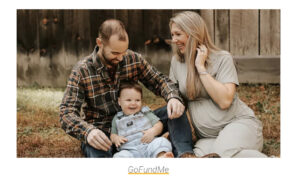 Haley didn't hesitate and agreed to an emergency c-section; when her son was born she gave him a quick kiss before he was whisked away to meet his daddy.
"The miracle of all this? When our baby was placed on Jb's chest, Jb's vitals all instantly improved. He was also acknowledging our son was there by making small head movements and sweet moans," Haley said.
Meanwhile, doctors worked on Haley and got her cleaned up and ready to move. Her bed was wheeled into her husband's hospital room so she could spend the last moments of her husband's life together with their newborn.
"Straight from the OR to ICU, I went," Haley shared.
"I spent my recovery time gazing at my husband. I was gazing at him in sadness, but in awe of his strength. He took his last breaths with our son on his chest and my hand in his hand."
The couple hadn't discussed names before her second son was born but there was no question that he would share his daddy's name.
"Some called my actions brave and heroic. I just call it love. I acted out of love. I put my trust in God that this was part of his plan, and I did what I had to do, out of love, to fulfill my husband's last wish," she added.
A GoFundMe has been set up to help Haley.
What a powerful mom Haley is; her bravery in delivering her child early so her husband could hold him in his final moments is a testament to her strength in the face of such heartache.
I know her boys will grow up feeling loved and secure with a mom like Haley who will ensure they know that their father loved them very much.
Please share.