So many people struggle with disabilities that are not visible to the naked eye; you never really know what someone is going through when you first meet them.
But one woman was left shocked after finding a very nasty note pinned to the windshield of her car.
Justine Van Den Born was diagnosed with Multiple Sclerosis when she was 35 years old. The condition of the central nervous system affects sufferers in different ways.
For Adelaide mom Justine she has good days and bad days. On this particular day Justine was feeling good and decided to take her daughter out.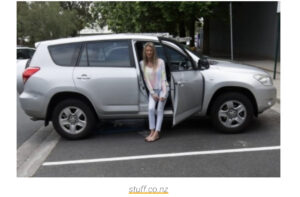 But when she returned to her car which was parked in a disabled bay, the Australian mom found an offensive note on her car which read: "Did you forget your wheelchair?"
Justine shared the note on Facebook with a response to the person who wrote it. Her post has been shared more than 130,000 times.
'Thank you for ruining that'
Justine wrote: "I was diagnosed with Multiple Sclerosis when I was 35. Not just MS but the worst one that never goes away and is slowly crippling my life. My kids have had to deal with things that kids shouldn't ever have to deal with and all of our futures are forever changed.
"On the day you saw me I was having a good day, I was walking with my daughter unaided having a nice day. Thank you for ruining that. You made me feel like people were looking at me, the exact way I feel when I can't walk properly.
"I am sick of people like yourself abusing me on my good days for using a facility I am entitled to. A disability doesn't always mean a person has to be wheelchair bound.
"Before you ruin another person's day remember you don't know everything and just because you can't see it it doesn't mean a person isn't struggling to put one foot in front of the other."
Please share so more people understand that disabilities are not always visible.